Meet Dr. Corey Milbrandt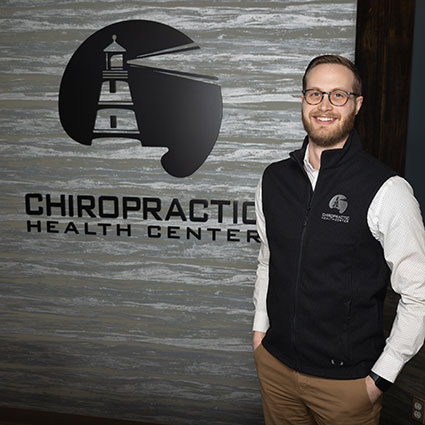 Dr. Corey Milbrandt wants his patients to know he cares about them. He wants what's best for them so they can have the best quality of life possible.
Why Chiropractic?
Dr. Corey originally had his sights set on a medical career.  After shadowing a number of medical professionals, he noticed how little time the doctors actually spent with their patients and wanted to switch his focus.
Although an introvert outside the office, Dr. Corey wanted to be able to spend time getting to know patients. He believed that the more connected he was with them, the better he would understand their lifestyle and what they needed.
On a school break, he discussed the limitations of the medical field with his hometown chiropractor and made the decision to switch from Pre-Med to Chiropractic.
An Education in Chiropractic and More
Dr. Corey received his Bachelor of Arts from the University of Northern Iowa. He attended Northwestern Health Sciences University for his chiropractic studies. In October 2017, he graduated as valedictorian of his class, earning his Doctor of Chiropractic.
Dr. Corey is also a Diplomate of the National Board of Chiropractic Examiners.
The Practice Today
Dr. Corey didn't know a lot about chiropractic before attending school. After graduation, he took more of a mechanistic approach to chiropractic. Discovering where the problems were and providing solutions for his patients.
Over the years, he has moved to a more holistic approach, treating the whole body through specific spinal adjustments. Using a full spine approach, he focuses on improving the systemic connection to achieve total wellness.
EXPLORE OUR SERVICES
Outside the Practice
When he's not in the office, Dr. Corey loves spending time with his wife, Amanda, and their daughter Aspen. Both he and his wife are close to their extended families and enjoy spending time with them as well. They actually moved to the area to be close to his wife's side of the family.
He also enjoys golfing, working on home projects and woodworking.
Book an Appointment Today
Dr. Corey would love to help you get back to living life to its fullest. Are you ready? Contact us today, (218) 628-0646; we're here for you.

Dr. Corey Milbrandt | (218) 628-0646